All Your Web In One Place.
Everything you want to read - news, your favorite blogs, art and more - in one convenient place designed for you.

Learn more about MultiPLX or signup for personalized experience.
As she exited the local airport, Prachi was photographed in an Only 'Popeye' shirt, one that she knotted and paired with denims.
Ahmedabad/Vadodara: Continuing its raids in bank scam of Nirav Modi, the Enforcement Directorate (ED) today conducted search and seizure operations on at least three jewelry outlets in Gujarat.
At a school function where she served as one of the celebrity guests, Sridevi was spotted wearing cobalt blue separates from Paule Ka with Gucci sandals.
Ahmedabad: Prime Minister of Canada Justin Pierre Trudeau, who is on a week long visit to India since yesterday, will arrive here tomorrow on a single day trip to Gujarat.
Khushi flew out of Mumbai on Sunday morning wearing a Gucci tee that we also saw on Kangana a few weeks ago.
Gandhinagar: The over a month long first budget session of 14 th Gujarat Assembly will being tomorrow.
​​Between January 1, 2015 and March 31, 2017, as many as 5,200 officials of public sector banks have been punished for fraud.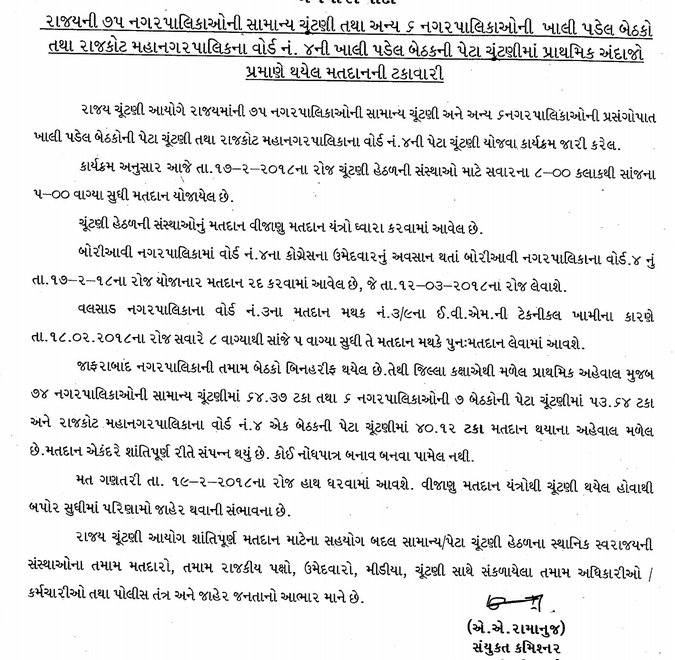 Gandhinagar: Counting of votes for elections of 74 municipalities in Gujarat will take place on Monday, February 19th.
Ahmedabad: Chief Minister Vijay Rupani today flagged off the 3rd Rajkot Marathon for 42km from the Race Course Ground and then 21km, 10km, 5km and 1km distances.
Junagadh: The body of an Asiatic lioness was found on the bed of a dried up rain-fed river in Maliya Hatina area of Junagadh district in Gujarat today.
Navi Mumbai: The Prime Minister, Shri Narendra Modi, today attended the Ground Breaking Ceremony of Navi Mumbai International Airport.
Ahmedabad: The Crime Branch here today detained Congress-supported Vadgam(SC) MLA Jignesh Mevani in Saraspur area today while he was going to protest against the government and campaign to ensure success of his bandh call over the death of the dalit activist who died after self immolation in Patan collector office premises.
​​Officials of Hong Kong branches of Indian lenders including Allahabad Bank, State Bank of India (SBI), Union Bank, UCO Bank and Axis Bank are part of the entire fraud which continued for 7 years.
The wilful defaulters who have taken loans over Rs 25 lakh from the bank had a gross outstanding against them of Rs 14,593.16 crore as on January 31, 2018, as per PNB data.